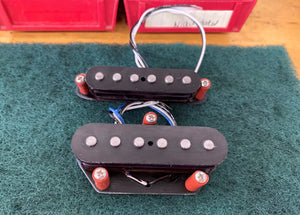 Bill and Becky Wilde Pickups
Noisefree Tele Neck And Lead Pickups-Available Now!
Regular price
$120.00
$0.00
L280TN/L290TL Set
The L-280T is for players that love the beautiful rich sound of a traditional single coil pickup without the tormenting 60 cycle hum -- but that's not all. What seems to be a tame, sweet pussycat at lower volume levels turns into a wilde beast when you turn up your amp!
The L-290T Series brings our noisefree technology to players who prefer a higher output and a more pronounced midrange response, similar to a "soapbar" single coil pickup.
L200TN/L200TL Set
The L-200 is quite different. While the L-280 reproduces a very linear harmonic spectrum, the L-200, with some dips in the lower midrange and some nice peaks in the upper midrange, gives you a more "Stratty" sound without losing that certain sweetness.
L200TL- Bill Lawrence's Noisefree AirGap  in a direct alnico tele bridge design. Known for its versatility in all teles and some customers describe it in the late 50's early 60's direction.